Issue - 2020 Winter Journal

Furthering the Concept of Multiple Use of Our Lands for Over 40 Years!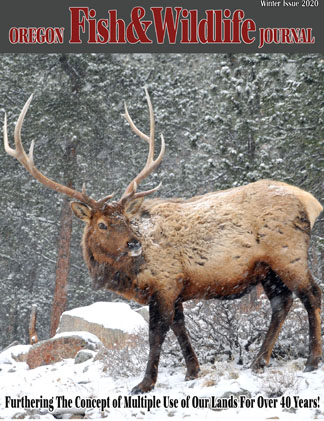 Winter Issue 2020 Table of Contents:
My Voice... By Cristy Rein
Timber Lawsuit Verdict A Reality Check For Oregonians... By Steve Zika
Bears and GPS... By Harlan White
The Devastating Economic Costs Of Cap and Trade... From Cascade Policy Institute
Wahoo, Man of Alaska... By Cam Ghostkeeper
American Wild Game and Livestock Protection Act... By US Senator Mike Lee
Elk In A Bucket... By Tresa Finchum
Elliott Forest Boondoggle Vs. The Giesy Plan Alternative... By Dr. Bob Zybach
The 500 Yard Buck... By Mickey Bellman
Your SUV Did Not Cause The California Wildfires... By Steve Goreham
Managed Forests Store More Carbon, In Trees And In Soil...By David Brooks
Contact Oregon Fish & Wildlife Journal to Order Your Back Issue Now!