Oregon Fish and Wildlife Journal: 2010 Fall Journal

Furthering the Concept of Multiple Use of Our Lands for Over 40 Years!
2010 Fall Journal
Oregon Fish & Wildlife Journal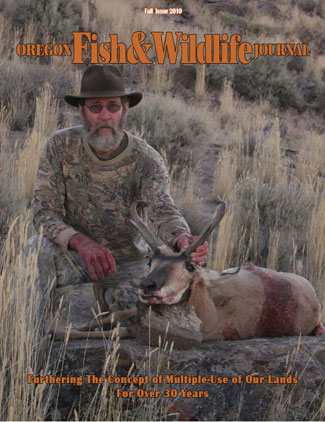 In Fall 2010 Journal Issue...
My Voice By Cristy Rein
The Hunt Of A Lifetime... By Sandy Cathcart
Ninth Circuit Says Forest Road Stormwater Discharge Violates Clean Water Act.... By Dominic Carollo
A Mule Called Dog Meat... By Cam Ghostkeeper
Wyden's Forest Bill Would Stymie State's Timber Industry... By Jim Huffman
Imaginary Owls, Real Jobs...By Ross Mickey, American Forest Resource Council
Task Force Fails Oregon Communities...From Representative Greg Walden
Bird Dog On Point... By Jerry Oakes
Large Petrified Stump Donated To World Forestry Center... From World Forestry Center
Trying To Make A Difference... By Mickey Bellman
The Thrill Of The Catch... By Cristy Rein
How Much Wood Is Oregon Harvesting? From Oregon Forest Resource Institute
To order past issues of Oregon Fish & Wildlife Journal, please contact us.
---
More Products by Oregon Fish & Wildlife Journal