Oregon Fish and Wildlife Journal: 2018 Fall Journal

Furthering the Concept of Multiple Use of Our Lands for Over 40 Years!
2018 Fall Journal
Oregon Fish & Wildlife Journal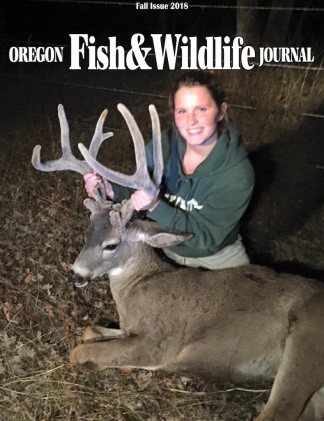 Spring Issue 2018 Table of Contents:
My Voice, By Cristy Rein
Learn To Hunt, Learn To Provide By Hannah Wanker
#RESISTWILDFIRES By Jim Peterson, Evergreen Magazine
Fishing For Silvers on the Kenai River By Jeff Plew
Changes in the Endagered Species ActBy Healthy Forests, Healthy Communities
Oregon Coast Range Old-Growth: Part III
Marbled Murrelet Habitat By Dr. Bob Zybach
Hunters Care For Wildlife By Mickey Bellman
The Good Life of Oregon Governor Kate BrownBy Adam Andrzejewski
Walden Calls For Active Forest Management To Reduce Catastrophic Wildfires
President Trump/Ryan Zinke: They Know The Truth About Wildfires! White House Transcript
Contact Oregon Fish & Wildlife Journal to Order Your Back Issue Now!
---
More Products by Oregon Fish & Wildlife Journal