Oregon Fish and Wildlife Journal: 2010 Summer Journal

Furthering the Concept of Multiple Use of Our Lands for Over 40 Years!
2010 Summer Journal
Oregon Fish & Wildlife Journal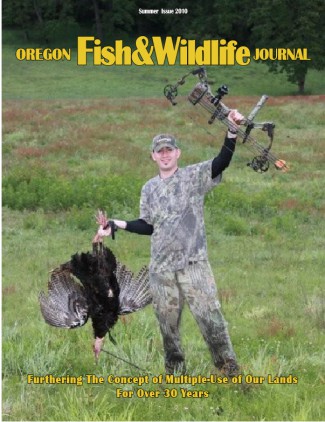 IN Summer 2010 Issue...
My Voice By Cristy Rein
My First Turkey Hunt By Matthew M. Mead
Wild Horses: Why Ranchers Don't Love "em.... By James R. Brunner
Deadfall By Mickey Bellman
Steelheading Vs. Fence-Building By Cam Ghostkeeper
Department of Interior Announces Readiness For Wildfire Season
Klamath Water Crisis Grows
By Christine Souza, California Farm Bureau Federation
State Specific Forest Bills
By Ann Forest Burns, American Forest Resource Council
The Story Of A Tree By Mickey Bellman
Our Neck Of The Woods... Rendezvous Kids
By Sandy Cathcart
Politics 101 By TJ Reilly
How Much Of Oregon's Economy Grows On Trees?
From Oregon Forest Resource Institute
To order past issues of Oregon Fish & Wildlife Journal, please contact us.
---
More Products by Oregon Fish & Wildlife Journal