Oregon Fish and Wildlife Journal: 2013 Fall Journal

Furthering the Concept of Multiple Use of Our Lands for Over 40 Years!
2013 Fall Journal
Oregon Fish & Wildlife Journal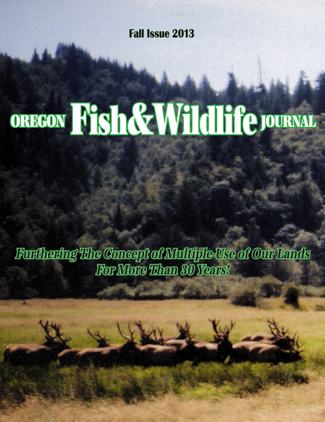 In Fall 2013 Issue ...
My Voice, By Cristy Rein
Oxbow Burn...Oxbow Forest... By John L. Perry
The Saga of Albert "Lucky" Johnson...By Cam Ghostkeeper
The Fine Art Of Staying Unlost...By Mickey Bellman
Are There Laws That Protect Our Forests?...From The Oregon Forest Resource Institute
39th Annual Oregon Trappers Rendezvous...By Bob Gilman, Oregon Trappers Association
Did You Know?...Wildfire Update
The True Costs Of Wildfire And The Douglas Complex...By Dr. Bob Zybach and John Marker
Restoring Healthy Forests For Healthy Communities Act (H.R. 1526)... Statements From Rep.Doc Hastings
Update On H.R. 1526Statements From Rep. Greg Walden
Contact Oregon Fish & Wildlife Journal to Order Your Back Issue Now!
---
More Products by Oregon Fish & Wildlife Journal